ATLANTIC LOBSTER
Our processing is flexible, we offer packaging tailored to your specifications. Don't hesitate to contact us.
SCIENTIFIC NAME


Homarus Americanus

ENGLISH NAME


American Lobster

FISHING AREA


Northwest Atlantic

FISHING SEASON


Mid-April to mid-August

PRODUCT OF ORIGIN


Wild catch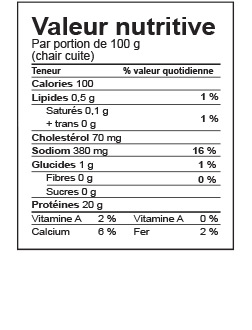 AVERAGE SIZE AND WEIGHT
Most American lobsters weigh between 430g and 900g. The length of lobster authorized to be fished in Quebec, measured from the rear of the eye to the junction between body (cephalothorax) and tail (abdomen), must be a minimum of 82mm.
GENERAL INFORMATION
Popular and widely sought after, this crustacean's shell turns bright orange when cooked. The pinkish white meat is lean, wonderfully firm and thick, with a unique taste.
The American lobster is one of the main species harvested in Quebec, off the coast of Îles-de-la-Madeleine, Gaspé and Anticosti Islands. The quality of the seabed in this region gives the lobster meat an incomparable taste.
In Quebec, the American lobster is harvested in an exemplary manner by professional fishermen who apply some of the world's most advanced conservation measures. Their good fishing practices have been cited as example in the Fisheries Resource Conservation Council's Sustainability Framework for Atlantic Lobster, 2007 report.
Our products
| Fresh | Size | Packaging Format |
| --- | --- | --- |
| Live lobster | 1 to 4 lbs | Flexible |
| Whole cooked lobster, delivered on ice | 1 to 4 lbs | Flexible |
| Frozen | Size | Packaging Format |
| --- | --- | --- |
| Whole cooked lobster, vacuum-packed | 1 to 4 lbs | Flexible |
| Lobster meat in brine, claw/tail/knuckle | 1 to 4 lbs | 3 lbs bags |